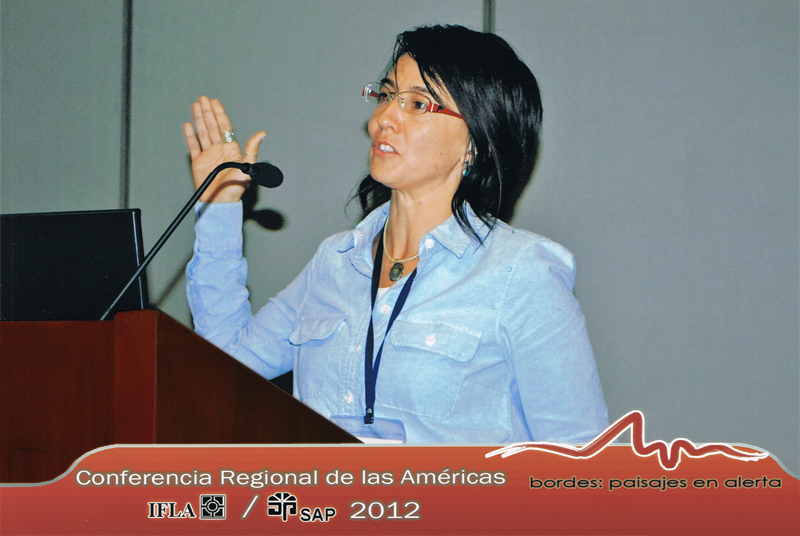 Serquis is an engaging public speaker who enjoys inspiring professionals, enthusiasts and students alike. She lectures in Spanish or English. Past speaking engagements include:
AIA 5×5, Santa Fe, NM 2016

Lecture: Healing Gardens

Universidad de Costa Rica

Potencial Educativo De Los Paisajes, April 2013

Santa Fe Master Gardeners

2013 Symposium Landscape Design for Our Changing Environment Uniting Nature and Man-made Elements in Landscape Design Solange presented tools to assist us in relating to and organizing space in ways that combine human needs with landscape and plant material.

IFLA international conference for IFLA Las Americas 2012 – Medellin, Colombia

Landescapes on the Alert

AIA, Santa Fe, NM 2010

Lecture
Please contact Solange at
contact@serquis.com
to make arrangements.
Sample Lecture Topics:
Educational and Healing Gardens
child play and learning from nature
all age spaces, public realm in planning for educational outdoor spaces
space, layout and specimen that engage and stimulate children through their senses
sustainability in outdoor living spaces
Affordable housing
healthy communities, open, public, semi-public, walkable linked outdoor spaces
sense of place
differentiate layouts and spaces that calm, relax or stimulate the senses
colors and plants that heal the body through sight, smell, and touch
changing reality: plants, climate, water, technology
Water Harvesting: Think Globally, Act Locally
collection and reuse from building structures and the landscape
swales: collection, conveyance and filtration
cost efficiency & environmental advantages
plan hardscape: attractive features that repair landscapes while beautifying places
Xeric to Zen Gardens in the Southwest
strategic and minimal planting eco natural and native: re-create environments
rock gardens with strategic planting inspired by Zen gardens
hardscape, native, diverse and edible landscapes
Planning for the Seasons
how to plan for seasonal color, harvesting and foliage
enjoy outdoor living spaces all year round
Site Analysis, Grading, & Drainage
prepare site to maximize water harvesting
site appropriate planting schemes, vegetable gardens, orchards
light and shade